ARTIST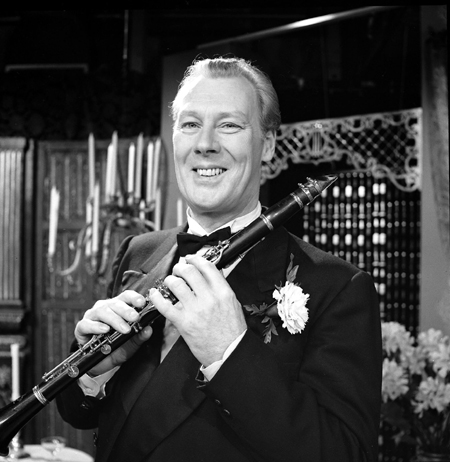 Harrison, Lance
"Lance Harrison was somebody we were all knocked out with, all six foot six inches of him." — Phil Nimmons
June 23, 1920—November 26, 2000
INSTRUMENTS Alto Sax, Banjo, Voice, Clarinet
A true "pioneer of Vancouver jazz" (qtd in Andrews), Lance Harrison devoted his life to music. Having left high school early in order to pursue a career as a musician, this talented multi-instrumentalist soon attracted attention as a sideman in the bands of Trevor Page, Sandy DeSantis, and
Dal Richards
. Following a stint playing in the dance and show bands of the Royal Canadian Air Force during World War II, he pursued his passion for Dixieland jazz as the leader of his own ensemble, which included players like Stew Barnett and Don Clark on trumpet,
Jack Fulton
on trombone, Bud Henderson on piano and Stan Johnson on bass. Almost half a century later, he could still be found playing Dixie as a member of the group Red Beans and Rice, a 7-piece combo fronted by multi-instrumentalist Rice Honeywell.
I have always had a big thing for Dixie. It is a happy kind of music. Basic, sure, but it has a complete freedom about it. There is room for imagination, for invention. Instead of playing the way it is written you use the melody and the chord structure as a foundation. Then by building, you play the way you feel about the music. I guess I like it because it just feels good. —Lance Harrison
"One of our local greats who has steadfastly refused to be lured by the glitter of the musical gold mines south of the border."- Phil Matty
Harrison was a Vancouverite, heart and soul. He rarely played outside the city, with two notable exceptions being his participation in the 1971 CBC TV special "Journey to New Orleans: Impressions of a Canadian Jazzman" (see image below) and his performances with U.S. cornetist Wild Bill Davidson in Toronto and Ottawa in 1983. Rumors even spread that, due to his reluctance to leave Vancouver, Lance had at one point turned down an offer to join Louis Armstrong's band, "citing a reluctance to leave Vancouver." When questioned about this bit of community lore by M.R. Carroll, writer for the
Georgia Straight
, he replied, "That's an old story. He never asked me, but whenever Louis was in town, he'd come over for a spaghetti dinner at my place" (qtd. in Carroll).
PHOTO GALLERY
Click on thumbnail for larger image
BIBLIOGRAPHY
"B.C. Entertainment Hall of Fame"
Robinson, Red. "B.C. Entertainment Hall of Fame." The Vancouver Sun.
"Big Band Jazz Scene Still Swinging"
Carroll, M.R. "Big Band Jazz Still Swinging." The Georgia Straight 8-15 Jan. 1998: 49
"Gas Town Jazz Band Plays"
Matty, Phil. "Gas Town Jazz Band Plays." The Province. 28 Jan. 1956.
"Harrison, Lance"
(Web page)
Duncan, Steve. "Harrison, Lance." Online posting. 27 Aug. 2007. B.C. Entertainment Hall of Fame Archives. 9 May 2008. http://bcehof.blogspot.com/2007/08/harrison-lance.html
"They May Be Playing Still..."
Andrews, Marke. "They May Be Playing Still..." The Vancouver Sun. 20 Jan 1978: B3.
JazzStreet Vancouver Interview
Nimmons, Phil. Interview with Mark Miller. Vancouver, BC. 21 Dec. 2005.