VENUE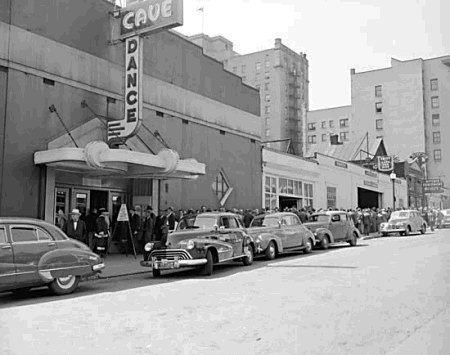 Cave, the
1937—1981
626 Hornby St.
"That was the gig in the city." - Oliver Gannon
Located in the "hub of the fancier end of city night life" ("Music"), one block north of the third
Hotel Vancouver
, the Cave was considered to be one of the most upscale clubs in Vancouver. Decorated to convey the atmosphere of a giant grotto, the venue's interior featured stalactites that clung to the ceiling, extending the viewer's sense of spectacle beyond the boundaries of the stage.
The Cave was a particularly important venue during the 1950s, when it became the first Vancouver club to be granted a
liquor license
. At this time, club owners also embraced the
Golden Age of Striptease
, establishing a reputation for presenting "elaborate, Ziegfeld-inspired production numbers." These performances featured a cast of predominantly white "A-dancers" and lavish staging: "Stage lights, collapsible stairways, velvet curtains, big orchestras, professional choreography, and handsome paychecks" (Greenwell) were standard fare. The club was also able to bring in high-quality touring productions. As John Hykawy, bellman at the Georgia Hotel since 1966, notes, "The Las Vegas shows were always tested on the Canadian market at the Cave Supper Club, because the Canadian audiences in those days were very hard to arouse. If they aroused us here, Hollywood knew they had a million-dollar show" (qtd. in Mackie).
Touring dance acts, as well as performers like Tony Bennett, Ella Fitzgerald, Anthony Newly, and Mitzi Gaynor, were accompanied by the Cave house band, which was led by such prominent Vancouver musicians as
Chris Gage
and
Fraser MacPherson
. MacPherson recalls the doubts expressed regarding his group's ability to uphold the aura of prestige associated with the club: "And of course we were at the age then when we spent a lot of time jamming after hours and doing that sort of thing. I suppose we had a reputation of being the kid..., you know, the jazzbos. And even our friends said, "Ah, you guys won't last two weeks in that place." We were taking over from a society band leader, you know?"
The musical sounds of the Cave evolved as the decades progressed. By the time it closed its doors in 1981, the club had become a popular venue for
rock 'n roll
bands such as Ike and Tina Turner, Tower of Power, and the Police.
PHOTO GALLERY
Click on thumbnail for larger image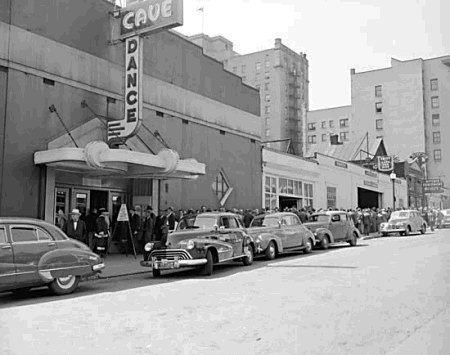 BIBLIOGRAPHY
"The Cave." Pacific Northwest Bands. Home page. 28 May 2008. http://pnwbands.com/cave.html

Gannon, Oliver. Personal interview with Alan Matheson. Vancouver, BC. 16 Nov 2005.

Greenwell, Kim, and Becki Ross. "Spectacular Striptease: Performing the Sexual and Racial Other in Vancouver, B.C., 1945-1975." Journal of Women's History 17.1 (2005): 137-164.

Mackie, John. "Georgia Hotel to Retain Character." Vancouver Sun. 16 Dec. 2006.

MacPherson, Fraser. Personal Interview with Mary Nelson. Sept. 1976. Transcript on Vancouver Jazz. Home Page. 9 Apr. 2008. http://vancouverjazz.com/inview/fras_nelson.shtml.

"Music of Vancouver." Wikipedia Online Encyclopedia. 28 May 2008. http://en.wikipedia.org/wiki/